Life Changing Philanthropy: Our Community Giving and Caring Together
VNA of Ohio is a mission-based organization, serving the greater Northeastern Ohio region for the past 120 years. Founded by 13 pioneering women eager to help meet Cleveland's healthcare needs, regardless of socioeconomic status. Every day we celebrate "Caring Together" for our community as we help our patients, staff, and families reach their best possible health outcomes in the comfort of their own home.
To meet this task, fundraising is a large part of our organization and it requires outreach, focus, and follow through. Over the past 5 years, VNA of Ohio has seen an overhaul in our fundraising due to organizational shifts. New staff members have worked to re-imagine our efforts and build programs from the ground up.
Leading the charge is our VP of Philanthropy, Nancy McCann. She has made great strides working alongside our VNA of Ohio Community Leadership Council in stewarding new donors, reinvigorating what has worked in the past, and planning for our future. 2022 has been an especially busy year for McCann as we celebrate our 120th year of service!
VNA of Ohio's Treasures of Cleveland fundraising gala event publicly recognizes and salutes our mission to serve as many patients as we can without regard for their material circumstances. An event that has been part of VNA of Ohio for many years, in 2022 McCann reimagined the event to focus on celebrating "treasures" of not only the VNA of Ohio, like the staff, donors, volunteers and Council members, but also "treasures" of Cleveland, landmarks, elected officials, artists, etc.
This year, the evening event was hosted on Thursday, November 10, 2022, at Gordon Green in Cleveland's near west side. Our goal was to bring all of the VNA of Ohio's generations together in the spirit of philanthropy to celebrate our unique mission. The event included awarding the first Art of Caring Award to Hewitt and Paula Shaw, and the new Corporate Community Partner Award to Busch Funeral & Crematory Services Both the Shaw's and the Busch families have been involved with VNA of Ohio for many years, supporting the organization through philanthropy, their can-do spirit and personal support. Paula is not only a member of the Community Leadership Council, she is also an employee, signing on when COVD-19 appeared, supplying PPE to field clinicians and providing daily testing for COVID-19. The Busch Family, along with long-time employee and supporter Bob Solich, have been with the VNA of Ohio since 1998. (See Treasures Images below.)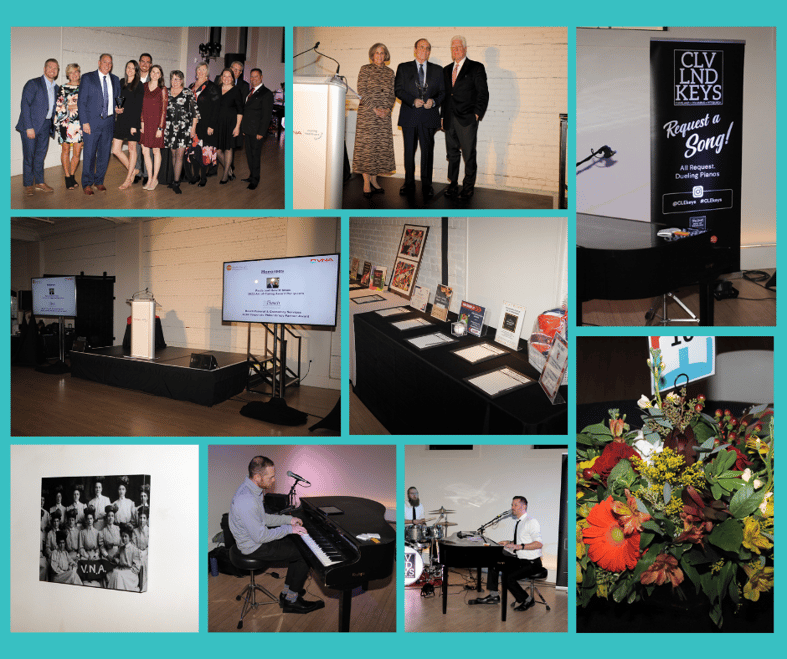 McCann has helped continue and renew multiple fundraising avenues that also focus on our organization's staff and patient community through the VNA of Ohio's WeCare Fund and Seasons of Hope Programs. The WeCare Employee and Patient Emergency Fund provides financial assistance to employees and patients facing dire and unexpected emergency circumstances. The Seasons of Hope Campaign allows us to assist families in need during the holiday season with gifts for their families they otherwise couldn't afford.
VNA of Ohio also provides staff appreciation opportunities throughout the year. To celebrate our special 120th year anniversary, McCann has organized a staff Guardians' game day celebration, a food truck lunch event, and monthly Giant Eagle gift card raffles. Along with Paula Shaw + Friends, the "Cookie Lady" and "Chicks with Sticks", who spent hundreds of hours knitting and crocheting warm hats, scarves and cowls for the clinicians in our colors, she coordinated the distribution and celebrated with staff. (See photo for appreciative, smiling staff members!)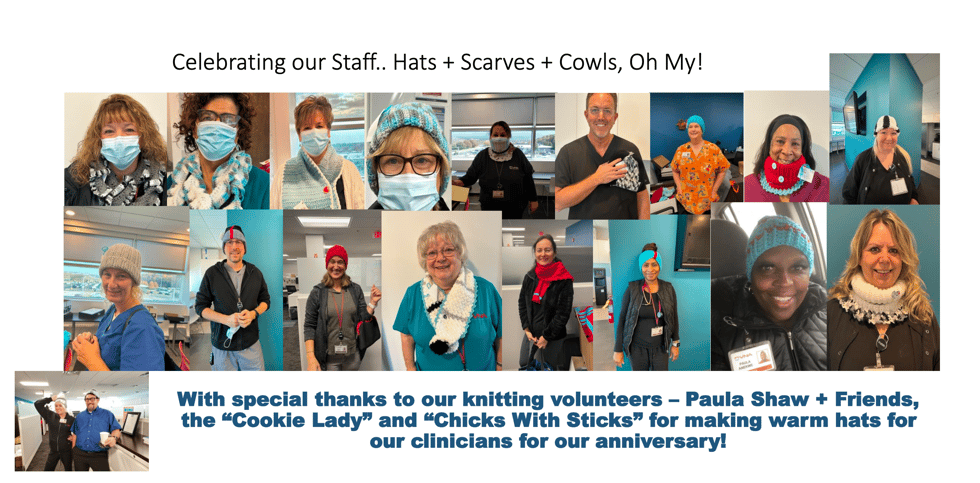 At the heart of McCann's philanthropic work and VNA of Ohio's mission is a focus on community. Supporting and cherishing our staff, patients, and everyone involved in this essential work is the heart of organization. Compassionate care requires "Caring Together" alongside quality medical care. We at VNA of Ohio "Care Together" to support Cleveland as a healthy and optimistic place to work and live.
Our team depends on generous donations to continue supporting supporting our community's health needs.
Would you like to make a difference and care along with VNA of Ohio?
Learn more about all our volunteer opportunities.