Frequently Asked Questions
What does homebound mean?

Medicare, Medicaid and most private insurances require that a patient be homebound and have a skilled need to qualify for services. A patient is considered homebound if they cannot leave home without considerable and taxing effort. Because many payer sources have different qualifications, contact our Intake Department to further discuss services and coverage.
How do I know what services I need?

A clinical coordinator will speak with you and your family, your doctor / facility to obtain medical records and help determine appropriate services.
Does my insurance cover home care?

We work with most major insurance companies and our list is always growing. Contact our Intake Department at 1-877-698-6264 to discuss whether your insurance plan covers the cost of care.
What is the cost of private-pay care?

Patients and families require different services to meet their specific needs. Rates will vary depending on your family's plan of care and the associated personnel. Contact our Intake Department at 216-931-1500 to speak with a representative today.
What geographic area do you cover?

We provide care throughout Northeast and Mid-Ohio. Visit our Service Area map to view our geographic reach. Please note, Hospice* is currently only provided in Northeast Ohio.
My loved one needs 24/7 care. Can you provide that?

Our Home Assist™ private-pay service is available to provide 24/7 skilled nursing and personal care (note: 24/7 care is currently only available in Northeast Ohio).
How will I know when someone is going to come?

A representative from the agency will call to schedule a visit with you. Please inform the scheduler and/or clinician if you have an upcoming appointment and our team will work with you to determine the time of your visit.
How do I know what level of care my loved one requires?

At admission, our clinicians will work with you to determine the level of care required. Based on that need, our team will determine which level of skill will best meet your needs.
What happens if my loved one is receiving Hospice* services but can no longer stay at home due to increasing care needs?

If a patient is unable to remain at home, we are contracted with nursing and hospice facilities in the area for Routine, Symptom Management and Respite Care. If you wish to explore alternative options, Home Assist™ can provide additional support that will allow you to remain in your home.
When is the right time to ask about Hospice*?

Now is the best time to learn about hospice and ask questions about what is to be expected. Having the conversation early can reduce stress when services are required and initiated.
When should a decision about entering a Hospice* program be made?

At any time during a life-limiting illness, we are available to discuss options and goals of care. The decision belongs to the patient; however, if the patient can no longer make decisions for themselves, it would be decided by the next of kin or POA. Although admission to Hospice Care requires a physician's order, the patient and family should feel free to discuss services with their care providers.
Do I have to be a Do-Not-Resuscitate Comfort Care (DNRCC) to enter Hospice* Care?

No, but we will help you develop a plan of care that focuses on non-invasive relief of symptoms and comfort care versus curative treatment.
Do I have to leave my home to go to Hospice* Care?

No, Hospice is not a place but a philosophy of care that is provided wherever the patient calls home.
*VNA of Ohio Home Health Care is licensed in OH and accredited by the CHAP. We are Medicare and Medicaid certified and our skilled services are covered by the patient's health care insurance benefit. As a nonprofit hospice, we invest in clinical education to enhance care, offer additional therapeutic treatments, and aim to accommodate all patients that contact us for services.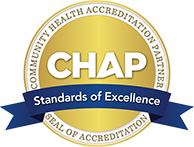 The entire VNA of Ohio health care team works diligently to fulfill our mission. We offer patients and clients high-quality, comprehensive care that promotes the independence and dignity of those we serve and aim to serve our entire community, regardless of their material circumstance.
Our home-based health care services place your needs first.
VNA of Ohio Provides Many Types of Home Health Care Services.
How Can We Care for You Today?
Private Duty
Assistance with walking and transferring

Assistance with exercises

Personal care and grooming

Meal planning
Home Health Care
Medication management

Recovery from injury or illness

Chronic disease management

Infusion therapy

Wound and ostomy management

Cardiac monitoring

Home health aide
Medical Surgical Nursing
Primary care

Palliative care

Transitional care
Hospice
Ongoing medical care and coordination

Crisis support 24/7

Expert pain and symptom management

Patient, caregiver education and companion support
Mental & Behavioral Health
C.A.R.E program for Mental and Behavioral Health

Anxiety and depression disorders

Safe shelter, nutrition, and medication plans
Rehabilitation
Ongoing medical care and coordination

Crisis support 24/7

Expert pain and symptom management

Patient, caregiver education and companion support
Our patients and clients experience our dedication every day.
"Our nurse, Amanda, gave us the most wonderful care. She was pleasant and pushed me so that I would benefit from the therapy sessions. My doctor felt I was further along in my recovery because of these services. I will now refer my friends and family to VNA of Ohio for homecare!"
Do you need care? Contact us!