Return to Recent News main page...
News Update
Contact: Emily Dubyoski
Visiting Nurse Association of Ohio
216-931-1302 EDubyoski@vnaohio.org
A New Approach to Crisis Intervention Training: "Trauma-Informed Care"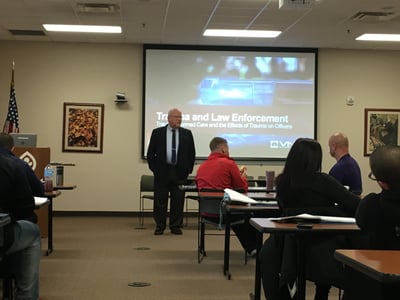 CLEVELAND, Ohio (January 25, 2018) – Over 20 police officers from North Olmsted, Bay Village, Rocky River, Lakewood and the Rocky River Metroparks gathered this week for a week-long Crisis Intervention Training. The goal of the CIT training is to help foster better relationships between police and the communities they serve.
Visiting Nurse Association of Ohio's behavioral health team has been playing a key role in this training for 10 years. New this year, VNA staff presented "Trauma-Informed Care and the Effects of Trauma on Officers." Thom Huggins, RN, a psychiatric nurse at VNA of Ohio, who presented the materials, told us, "This approach helps us shift from asking the question, 'What's wrong with you?' to asking, 'What happened to you?'"
Asking the right questions in the right way when presented with a crisis situation is a major piece of the "Trauma-Informed Care" approach. Huggins also explained the effects of trauma on officers, who may experience direct or indirect trauma on a daily basis as part of their jobs.
"We wanted to not only provide these officers with the tools to care for a person in a crisis situation, but for them to be able to recognize signs of trauma among themselves," said Huggins. "Our goals are that the CIT officers can identify techniques to minimize the risk of re-traumatizing someone, recognize symptoms of stress related to secondary or vicarious trauma, and develop techniques for increasing their resiliency."
VNA's training also included therapeutic communication, which fosters active listening and increasing empathy, instead of sympathy, in times of crisis.
"When a member of our community has a mental health crisis that requires the intervention of police officers, we want them to have as many tools as possible to work effectively with the person experiencing the crisis so both parties can remain safe," said Huggins.
The Crisis Intervention Training was updated in 2015 and written by the Criminal Justice Coordinating Center of Excellence, in cooperation with the Ohio Department of Mental Health and Addiction Services, the National Alliance on Mental Illness of Ohio, the Office of Criminal Justice Services and the Ohio Attorney General's Office.
CIT officers receive approximately 40 hours of training in areas including psychiatric disorders, substance abuse issues, de-escalation techniques and in legal issues related to mental health and substance abuse.
Read more about VNA's role in Crisis Intervention Training.
New Report Points To Progress With Cleveland Police Training For Mental Health Calls (Ideastream)