Return to Recent News main page...
News Update


Visiting Nurse Association of Ohio Hospice Volunteer Recognized at Greater Cleveland Volunteers Annual Award Ceremony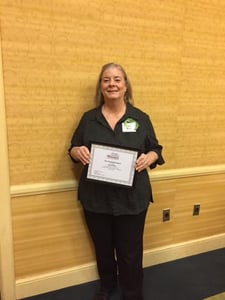 CLEVELAND, Ohio (May 2, 2017) – Visiting Nurse Association of Ohio volunteer Kathy Miller was recently selected to receive the Limelight Award at the Greater Cleveland Volunteers' annual Volunteer Recognition event in Independence, Ohio. Kathy and 26 other recipients received Limelight awards this year.
For 28 years, Kathy had worked for VNA of Ohio in various capacities, including Hospice and Clinical Development. She's now in her third year of retirement and has been a volunteer for VNA's Hospice program since then.
A few hours each week, she reaches out to families who have recently lost a family member in VNA Hospice care. She says sometimes they just need to talk and have someone to listen to them, someone who is not close to the situation or close to the family. She likes building relationships with the family members and helping them through a difficult time.
Kathy was nominated for the Limelight Award by Taissa Kutsar, Bereavement Coordinator at VNA of Ohio.
About Visiting Nurse Association of Ohio
VNA of Ohio is a non-profit, community-based healthcare organization that has been helping patients for more than 100 years. The organization works with hospitals, doctors, community agencies and companies to provide services for patients in their homes. Services include skilled nursing care, mental healthcare, social work services, rehabilitation therapies, hospice and personal care assistance.
VNA of Ohio provides high-quality, comprehensive home health and hospice care to promote health, independence and dignity to those living in our communities. Learn more at www.vnaohio.org.


Media Contact: Emily Blackie
EBlackie@vnaohio.org /216-315-0805