Return to Recent News main page...
News Update
James Eder, Longtime VNA of Ohio Hospice Volunteer, Named one of Area's Most Treasured Volunteers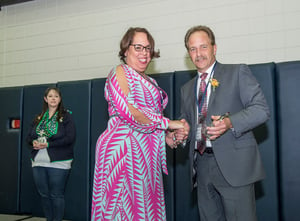 CLEVELAND, Ohio (October 21, 2016) – The Center for Community Solutions recognized James Eder as one of five area Most Treasured Volunteers (MTV) at the Celebration of Human Services awards ceremony that took place at the Practice Court of The Q. Eder has been a volunteer with Visiting Nurse Association of Ohio for 27 years.
Eder provides legal services to families and patients who are entered into hospice care who are unable to afford them. He works with them to draft wills, living wills and power of attorney documents based on the circumstances for each household. He serves these clients with professionalism and humor and gives these cases the same attention and service he does with his paying clients.
"James Eder serves not only generously and with an extraordinary professionalism, but he also embodies a joie de vivre that reminds everyone who comes into contact with him that life is a wonderful thing," said Dora Harper, Special Services Volunteer Manager at VNA of Ohio. "His warmth, wit and commitment to making life both more comfortable and more delightful for those he serves distinguish his service as being genuinely extraordinary."
"The annual MTV Awards celebrate people who create solutions to human problems by giving of their time, talent and treasure—by giving of themselves through volunteering," John Corlett, president and executive director of CCS said in a press release.