VNAO will be celebrating its 120th Anniversary in 2022!
The 120th Anniversary Committee's mission is to educate, celebrate and commemorate VNAOs 120 years of caring together with our community to ensure access to community-based health care remains a reality for all.
The VNAO 120th Anniversary Committee is comprised of a group of persons who volunteer their time, talent and resources to plan and execute a one-year program designed to build awareness, celebrate staff, honor our past, and raise funds for VNAO.
Goals
Honor Our Past - The 120th Anniversary is, first and foremost, a unique opportunity to do just that -- to celebrate. We should indeed honor the great work that has been done, the ways in which people and our community have been transformed, and the many contributions of everyday people, staff, volunteers, donors and Board members who helped us become the organization we are today.
Heighten Brand Awareness - The 120th Anniversary -- from the launch event to the final celebration at Treasures in November 2022 -- should include a strategic focus on telling people who we are and the ways in which we serve our community. We need to understand how people "see us" today - and then determine ways we can enhance awareness – therefore enhancing the number of patients and families for whom we deliver care and enhancing donations and support from individuals, corporations and foundations within our community.
Increase Charitable Giving -We know that this is a uniquely challenging climate to identify and secure new donors; however, our 120th Anniversary is a chance to bring new people "into the fold" -- to tell our story in ways that inspire others to give and get involved.
Plan the Vision for Our Next Five Years -The 120th Anniversary should not only focus on where we've been and where we are now, but where we're going as an organization. It is an opportunity to write "The future of home health care. Delivered." and fully establish VNAO as the expert in home health care in Northern Ohio.
Each month, we will have a different theme to celebrate each area of VNAO, highlighting staff, volunteers and Board members. We will have surprises along the way for staff in appreciation for all of their hard work.
January - The official launch of our 120th Anniversary, presentations on infection control by Susan Giglia to branches, cookies delivered to all staff the week of January 24th, and our launch of the "We Get It" Recruiting Campaign
February - Every employee received a $25 Giant Eagle Gift Certificate
March - Social workers received a planter
April - Nursing Education Month, HUGS T-Shirts for all (Help Us Give Services)
May - Mental Health Month, All Staff invited to the Guardian's Game on Mayy 22, 2022 - with generous support from Busch Funeral & Crematory Services
June - All staff invited to office for GRIDdle Food Truck - with generous support from Fisher & Phillips
VNA of Ohio Provides Many Types of Home Healthcare Services.
How Can We Care for You Today?
Private Duty
Assistance with walking and transferring

Assistance with exercises

Personal care and grooming

Meal planning
Home Healthcare
Medication management

Recovery from injury or illness

Chronic disease management

Infusion therapy

Wound and ostomy management

Cardiac monitoring

Home health aide
Medical Surgical Nursing
Primary care

Palliative care

Transitional care
Hospice
Ongoing medical care and coordination

Crisis support 24/7

Expert pain and symptom management

Patient, caregiver education and companion support
Mental & Behavioral Health
C.A.R.E program for Mental and Behavioral Health

Anxiety and depression disorders

Safe shelter, nutrition, and medication plans
Rehabilitation
Ongoing medical care and coordination

Crisis support 24/7

Expert pain and symptom management

Patient, caregiver education and companion support
VNA of Ohio Home Healthcare is licensed in OH and accredited by CHAP. We are Medicare and Medicaid certified and our skilled services are covered by the patient's health care insurance benefit.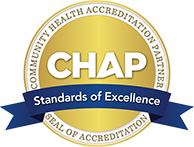 Our patients and clients experience our support every day.
"My mother's care providers were wonderful, patient, kind, and helpful each and every day that they came in to help with my mom. I know my mom can be 'quite a humdinger,' at times and her nurses and therapists got her up and motivated."
Do you need care? Contact Us!